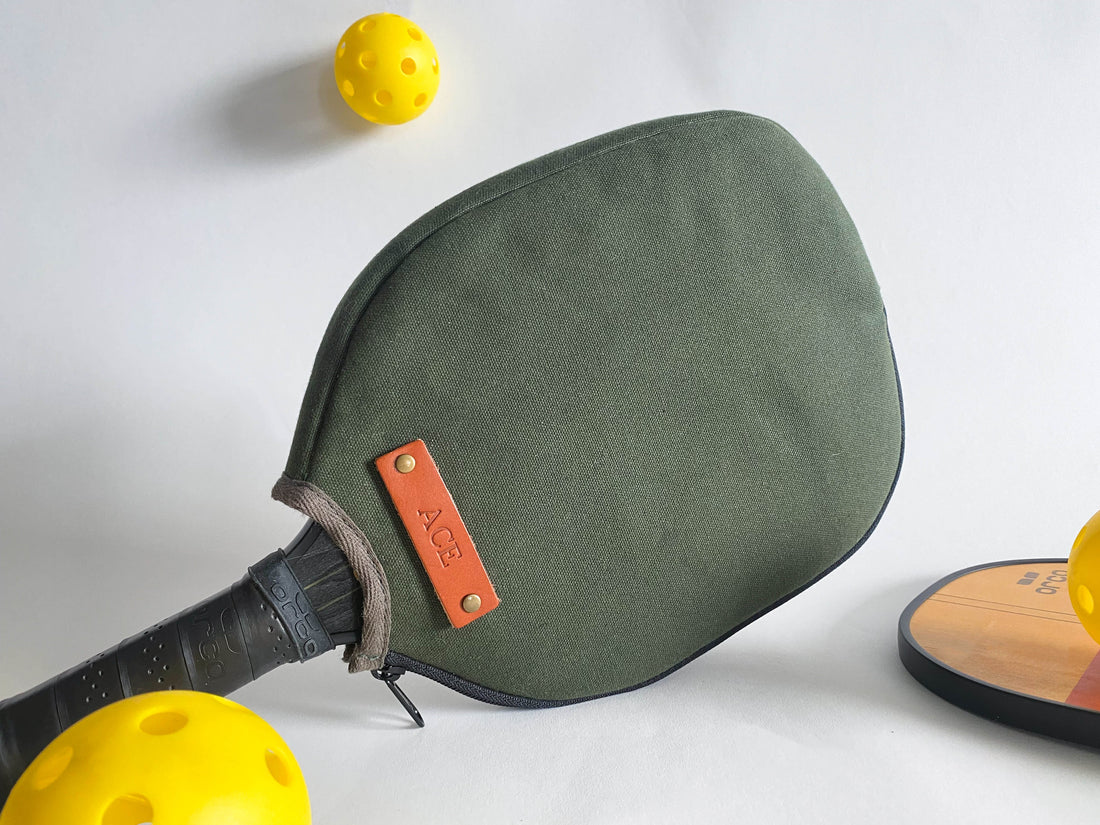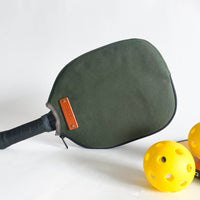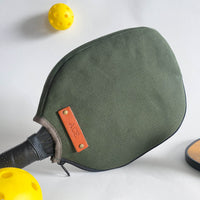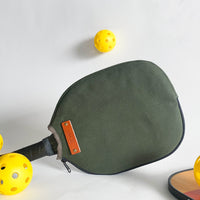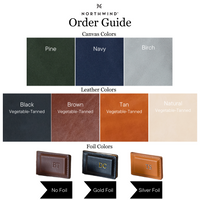 Personalized Canvas Pickleball Paddle Cover
Note: pickleball paddle and balls NOT included.
These classic pickleball paddle covers are a part of our CANVAS COLLECTION. Made with high quality cotton canvas, faux shearling to protect your paddle, and a vegetable tanned leather personalization patch, each canvas paddle cover is sewn and assembled with care and personalized with precision! Deboss your initials for a personal touch and choose from two canvas color options and four leather color options!
CANVAS Pickleball Paddle Covers
‣ The Northwind CANVAS Pickleball Paddle Covers offer the right amount of protection for your paddle and can be customized in the color combination of your choice. Select from two canvas colors and four leather colors to make the covers for your drivers and woods!
‣ We assemble each canvas pickleball paddle cover with faux shearling lining and a personalization patch. You'll be proud to use this paddle cover for years to come!
‣ Our vegetable tanned leather is full grain and assembled at full weight. Personalize yours for an extra special touch!
‣ At Northwind, we are passionate about making quality accessories that will last. Our CANVAS COLLECTION is an assortment of thoughtful products made of cotton canvas and vegetable tanned leather that are stylish, functional, and will last.
—————————————————————
[ PRODUCT FEATURES ]
—————————————————————
◘ High Quality 100% Cotton Canvas
◘ Soft Faux Shearling Lining
◘ Full Grain Vegetable Tanned Leather Personalization Patch
◘ Dimensions: 11" x 8.5" x 1"
One Size Fits many paddles! Paddle NOT included.
The paddle featured measures 7.75" x 10.5" x .625"
NOTE - these pickleball paddle covers are made by hand and some slight variation in dimensions may occur. Thank you for understanding and for supporting our small business!
—————————————————————
[ PERSONALIZATION INSTRUCTIONS ]
—————————————————————
◘ You can choose Letters - A-Z English (CAPS ONLY), Numbers 0-9, or special characters (&) or (♡)
◘ Maximum of 3 characters
◘ All products are custom, handmade, made to order.
◘ Please add Gift Notes in the "Note to Seller" text box.
———————————
[PRODUCT NOTES]
———————————
◘ Because we are committed to using only the best natural leather, each item's journey begins with a living cow and ends in your hands. When two cows brush up against each other while roaming the pasture on a sunlit afternoon, or when a female cow gives birth to a newborn calf, that journey is recorded in the form of scratches, scars, or slight variations in color and thickness. We know our customers are singular, original people, which is why we embrace these natural variations and create leather custom pieces with character. The molded pieces from wet formed leather are especially likely to have these markings!
◘ We use a vintage typeset to stamp all items. Because every letter has a unique shape, the spacing between each hand-stamped letter will not be exactly the same.
◘ Foil is a lovely accent and a great way to make your personalization stand out! However, please note that with time and frequent use, the foil will start to fade.
—————————————————————
[ PRODUCTION AND SHIPPING TIME ]
—————————————————————
◘ Manufacturing takes 1-2 business days, but may increase during peak season.
◘ We offer a variety of shipping services to ensure that your product arrives when you need it.
—————————————————————
[ CUSTOM, CORPORATE GIFT, AND WHOLESALE ORDERS ]
—————————————————————
Want to order 10 or more items? Contact for bulk pricing!
Want to put a logo, brand, or image on this product? Contact us.
Looking for a perfect corporate gift? Contact us.
Looking for custom made items? Contact us with a photo, quantity, and relevant information for a quote!
—————————————————————
[ ABOUT Northwind ]
✓ Handmade in the USA and ships from the USA
✓ We make leather goods and accessories that are perfect for mothers day, fathers day, graduation, christmas, valentines day, third anniversary and so much more
✓ Northwind items make the best wedding gifts, groomsmen gifts, bridesmaids gifts, and wedding accessories
© All images and designs are the property of NorthwindSupply.com
♦ Production time is 1 - 2 business days. 
♦ Shipping takes 3-8 days for delivery. 
♦ All products are custom, handmade, made to order. 
♦ If you have any questions, please message us.
We Are Hard At Work
For You :)
Super fast shipping, gorgeous gift. Can't...
Super fast shipping, gorgeous gift. Can't wait to give this to my pickle-ball-obsessed brother for Christmas.
This Cover is well made, shipping was quic...
This Cover is well made, shipping was quick. My dad was happy with this as a gift. Customer service is responsive.
Loved this, got it for a coworker's retire...
Loved this, got it for a coworker's retirement present. It was very well received. He loved it!
I am so excited to give this to my grandpa...
I am so excited to give this to my grandpa who LOVES pickle ball. I got it with his initials. He's going to love it. It came super quickly and is very great quality. Will definitely order from this shop again!
Super fast shipping! Looks great, perfect...
Super fast shipping! Looks great, perfect gift